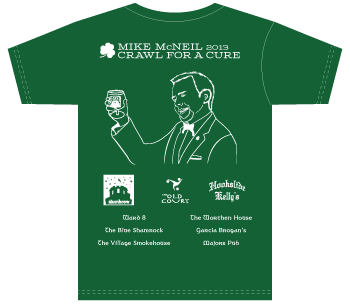 Join us as we take over the streets of Lowell, MA honoring our best friend Mikey for the 5th annual Crawl for a Cure! We will be stopping at 8 bars, capping the night off at one bar which will be reserved for crawl participants only! Last year more than 400 people participated in making the 2012 Pub Crawl an overwhelming success, raising over $14,500! Let's beat that record! Grab someone who wasn't there last year and sign up now! Registrations processed before Sunday May 19, 2013 will be guaranteed a tee on the day of the event. After Sunday May 19, 2013 we will do our best to arrange for tees for everyone, but we can not guaranteed it.
The Agenda
We will start at 5:00 PM at the UML Inn & Conference Center in downtown Lowell for food and the first round (or two) of drinks. Make ALL EFFORTS to be there on time - This is where we hand out the T-shirts/wristbands, group maps, and make all announcements. It's a GREAT time as you get to hang out with everyone all at once. Give Mike 5 members must be in attendance to enter the iPad Raffle.
Crawl Stops
UML Inn & Conference Center - 1st stop for all groups! (Hotel Rooms)
The Blue Shamrock
The Village Smokehouse
Garcia Brogan's
Ward 8
Major's
The Worthen - Last stop for all groups!
Registration at the door will be $30
Register now to save!
Don't forget, you get one free registration when you sign up for Give Mike 5, and two more each year! Click here to learn more about Give Mike 5.
Pub Crawl

$

25

($30 day of)
Give Mike 5

$

5

per month
Hotel rooms - $99 ($89 with AAA)
The UML Inn & Conference Center still has some rooms available for the night of the crawl. Click here to book online. Or call 877-886-5422 and tell them you are with the "Crawl for a Cure" group. Book now to ensure you are able to get a room for the night, it's the safest way attend!
About The Mike McNeil Organization
The Mike McNeil Organization was founded in 2009 in honor of our great friend Michael Joseph McNeil, who passed away at the age of 27 from a rare form of cancer called Pheocromocytoma. Mike was an inspiration to all who had the privilege to meet him, and was always living life to the fullest. In our first three years, the Mike McNeil Organization donated over $29,000 towards one day finding a cure for cancer.
Our goal is to make sure everyone has a fun, unforgettable and safe time at each of our events – All while raising funds to one day find a cure for cancer.
The Mike McNeil Organization is a 501(c)(3) charitable organization recognized by the U.S. federal government and all donations are tax deductible.
Questions/Comments
If you have any questions or comments, feel free to get in touch with us via our Contact Page and we'll get right back to you.